Heart and Goal offers special events tailored specifically to your group or organization. For example, this Fall you can join us for a mountain getaway/conference designed for people in the fields of education, healthcare, therapy and more.
The Mountain S.E.E.D (Social, Emotional, Educator, Development) Conference will be taking place this Fall: Friday, November 17 through Sunday, November 19.
Save $25 with early bird pricing through October 6, 2023. Please read through this page carefully to answer all of your questions. Once you register you will receive a camper packet via email, which covers everything you'll need to know in detail.
In the meantime, CLICK HERE to learn more about the camp and experience.
Register Below
Conference Details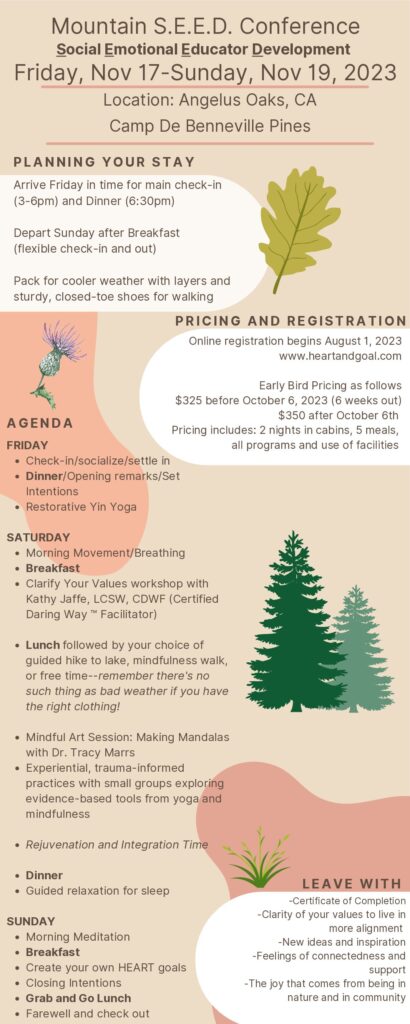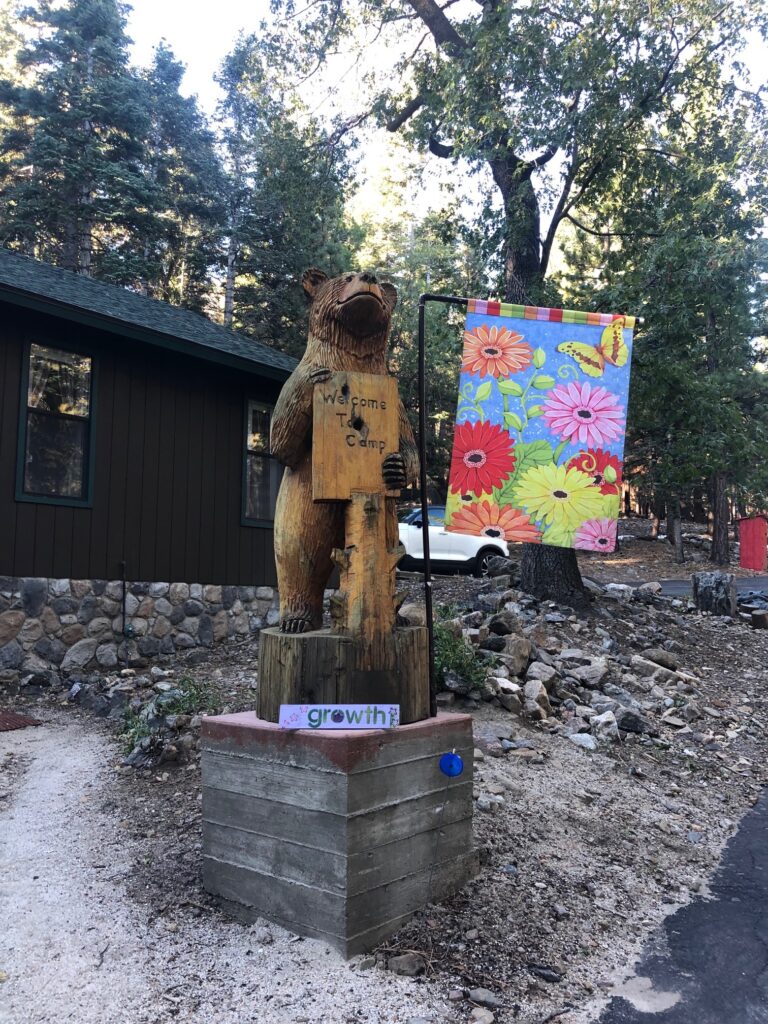 Camp de Benneville Pines is located at 41750 Jenks Lake Rd W, Angelus Oaks, CA 92305 in the San Bernardino National Forest about 90 miles east of Los Angeles at an elevation of 6,800 feet. The mountain hosts a forest of towering pines, cedars, and oaks.
GETTING THERE
Camp is about:
1.5 hours drive from Perris
1 hour drive from Riverside
45 min from Redlands or Big Bear
A more detailed map will be provided closer to the event
PLANNING YOUR STAY
We are at high elevation, so it is important to drink a lot of water to stay hydrated. Fresh, clean mountain water is available in the lodge for you to fill up your reusable bottles!
Wear closed-toe shoes for walking around the grounds and bring your yoga mat if you have one and any props you might want (blocks, blankets, etc)
Plan to unplug—there is no WIFI and limited cell service (Verizon and T-Mobile work best). Send your family notice when you arrive before you lose reception and enjoy this opportunity to be fully present and unplugged!
What to Expect
Your conference registration includes 2 overnights in small cabins (limited double beds for couples) mostly bunk beds. There are enough cabins that bottom bunks should be an option (You can request your roommates on the registration form). We recommend getting a team of teachers or group of friends together and staying in the same cabin! Coming alone–no problem, it will be fun to mix things up and meet new people.
Upgrade your experience by staying in Craig's Cabin. Please indicate on your registration for if you are interested in this space. It can hold up to 26 people and has a full kitchen! Choose Craig's Cabin during checkout and pay the additional charge of $30/person.
You will be bringing your own bedding (sleeping bag or sheets and pillow) and towels for showering. (Each cabin has two private bathrooms with stand-up showers)
All your delicious and hot meals are included in the price. Friday: Dinner, Saturday: Breakfast, Lunch and Dinner and Sunday: Breakfast and grab and go lunch. Vegan, vegetarian, gluten free can accommodated upon request at registration. **If you have more dietary restrictions or a specialized food needs you will have to supplement with your own food. Camp has a place where you can store extra food and snacks. You can BYO snacks, wine, etc and store it in the main lodge. Coffee and Tea bar open in the lodge 24/7.
We have access to the whole grounds, hiking trails, pool, and much more plus you will get all of the conference information and materials including a Certificate of Completion.
SAFETY
The camp doesn't require Covid vaccination, however, they do require everyone test at home prior to coming to camp and proof (photo of negative test) upon arrival.
There will be a CPR certified person volunteering their time.
After registering you will receive a camper packet via email with everything else you need to know including a health form to turn in at check-in.